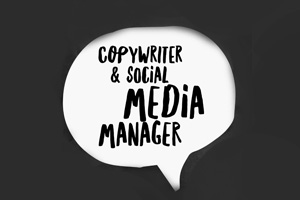 Suite 203 Communications is a Montreal based boutique marketing agency that specializes in public relations, social media and strategic content for lifestyle brands. We are currently seeking a Copywriter / Social Media Manager to join our team. This is a full-time position, starting in September 2016.
Overview
Reporting to the company presidents, the Copywriter / Social Media Manager is a dynamic professional responsible for creating engaging content for Suite 203 Communications and its clients. Writing projects include copy for social media, blogs, websites, e-newsletters, PR materials and more. Social media management includes planning, posting, engaging and tracking performance on all social platforms for a portfolio of clients. We are looking for a natural storyteller with solid experience in making a brand's voice cut through the clutter across various business channels and media.
Responsibilities 
Create and/or translate communication materials including press releases, website copy, e-newsletters and other marketing materials
Write optimized web content for blogs and websites with the goal of enhancing search results
Write compelling and engaging copy that resonates with consumers and fosters engagement
Maintain a consistent and compelling voice for each unique client
Develop and maintain monthly social media editorial calendars for clients and post content on a daily basis
Monitor and engage with social communities on a daily basis
Coordinate various projects simultaneously
Collaborate with design and photography teams to create successful marketing campaigns on all platforms
Work closely with the co-owners to brainstorm concepts for client projects and new business development
Other duties, as assigned
Requirements
Bachelors in English, Communications, Marketing, Journalism or other related field
1-3 years of experience in developing marketing content for various channels
1-2 years of experience as a community manager
Experience in the fashion, beauty, health, food or design industries
A strong understanding of marketing and SEO principles
Bilingual – Excellent command of the English language with perfect English writing capabilities, plus functional French
French writing skills – a plus
Smooth and exciting style of writing, with the ability to write in various tones and voices
Creative, social personality
Team player willing to roll up your sleeves to get the job done
Excellent time management skills, organized, detail-oriented, and strong multi-tasker
Ability to adapt and thrive in a fast-paced work environment
Autonomous, self-starter who is able to work independently
Ability to work at the NDG-based office (50% of time) and home office (50% of time)
Ability to travel to local client meetings
Have a laptop with up-to-date software
Knowledge of social media platforms, Word, Mailchimp, WordPress, Photoshop and other social media design programs
Registered business with tax numbers (this is a full-time freelance position)
To apply for this position
Please send your resume and cover letter plus 3-5 examples of your copywriting and 3-5 links showcasing your social media experience to info@suite203.ca by September 9, 2016.
Instagram Feeds
Search our site