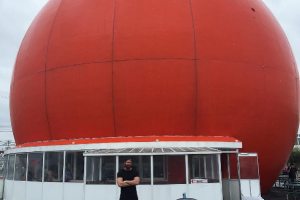 We're proud to say that we live in one of the most beautiful cities in the world, and we love to show it off on our social media channels. While beauty can be found in all parts of the city, we've rounded up some of our favourite Montreal social media landmarks that are more than Instagram-worthy.
Photo by @harleyplays
1. Gibeau Orange Julep
Every true Montrealer has been to this place to grab a late-night snack (poutine) and that infamous green cup of secret recipe orange juice. Open 24 hours all year round, the giant orange ball and colourful flags blowing in the wind have become a must-shoot photo for adding a touch of orange to your feed.
2. Mount-Royal Observatory (The Lookout)
Whether passing by on a mountain run or swarming to this hotspot with tourists alike, the renowned lookout point never gets old. The best place to get a view of downtown Montreal and beyond; with this beautiful skyline shot, no selfies are required.
3. La Diperie
Not an official landmark, this turquoise brick wall has been all over Instagram for quite some time now. You can't call yourself an ice cream lover without stopping by La Diperie and devouring a dipped icy treat. Whether you choose nuts, pretzels or candy as the final layer, you know it will be one photo-worthy cone.
4. Le Palais des Congrès
The gorgeous multi-coloured windows of this well-known building are synonymous with Montreal. No matter the weather, you're sure to find a rainbow in the heart of the city to sprinkle some colour into your day and on to your feed.
5. Bota Bota
Paradise on earth: a floating spa on the edge of the city. The contrast between modern design and sheer relaxation is one of the many reasons why people love taking pictures here. Between the pools, the waterfalls and the hammocks, you'll have no problem finding the perfect shot (or two or three).
6. Farine Five Roses
An iconic Montreal landmark, this flour factory has a sign that can be seen from the Lachine Canal. While it may look industrial from a distance, when paired with the perfect sunset, this shot epitomizes our city.
7. Mandy's
Mandy's proves that salads need not be boring. Quickly becoming one of Montreal's top healthy lunch destinations, Mandy's draws in locals as well as tourists with their colourful mixes of fresh ingredients and iconic salad bowls. Whether you decide to enjoy one of their bestselling salads (or soups or smoothies) or create your own custom mix, you're sure to have a delicious meal and a stunning Instagram photo.
Instagram Feeds
Search our site