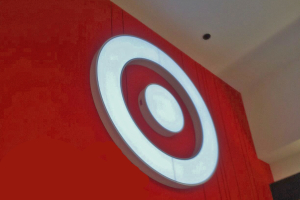 It was all glamour and glitz Monday evening, September 16, at the Target store in the Place Vertu shopping centre in Montreal, as several big names celebrated the launch of the super stores into the Quebec market. Target Corporation pulled out all the stops for this event, from the red carpet entrance to the themed food stations and exciting appearances by Canadian pop star Mitsou, international supermodel Coco Rocha and, of course, Bulls-Eye, the retail store's infamous mascot. Keeping loyal to the Target brand, Coco Rocha floated her way through the store looking statuesque and sporting a dress from the store's exclusive Philip Lim collection. The energy of the evening was high as the guests got a sneak peek at all the amazing merchandise and exclusive brands the discount store has to offer. The same assortment will soon be found in a number of new Target Canada locations popping up throughout the province.
Target takes pride in creating a unique shopping experience for its customers. What differentiates Target from any other department store is its focus on design. In the past five years, the store has created exclusive collaborations with exceptional designers such as Alexander McQueen, Missoni, Jason Wu, Liberty of London and most recently, Neiman Marcus and Phillip Lim. In essence, everything we need to know about shopping at Target is right there in the slogan: Expect More, Pay Less. The Montreal and Quebec community have welcomed Target with open arms and are anxious to find out who the next design partner will be!
Us gals at Suite 203 have always been Target fans, with many trips taken across the border to Plattsburgh to shop our favourite discount brands (and enjoy a Friendly's Fribble!) While the super store's Canadian prices may not be as super as they are in the States, we still managed to fill our red shopping carts with a plethora of items. All in all  we are definitely looking forward to not having to cross the border to hit the target!
Here are a few favourite finds:
Instagram Feeds
Search our site