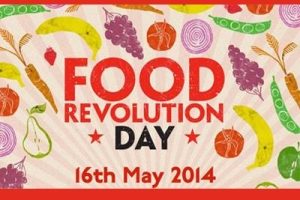 "Every child should understand where food comes from, how to cook it, and how it affects their bodies. Food Revolution Day is about getting kids excited about food, helping them get food smart and setting them up for a long, healthy life."
-Jamie Oliver
As the Montreal ambassadors of Food Revolution Day here in Montreal, we, at Suite 203, are proud to be partnering with La Tablée des Chefs to create a fun-filled, foodie event on May 16th. Throughout the world, communities will be joining forces to promote "real food;" food that is made from scratch; and doesn't come out of a box or bag. It's about teaching people how easy it is to cook at home, all while supporting an amazing organization that gives adolescents the skills to be a healthier generation.
Here's what we have planned:
The Real Food Market – Salle Mandoline – Jean Talon Market
Open to the public, this curated market of local restaurants and food purveyors will allow Montrealers to try some of our city's very best cuisine, all under one roof. Applications are currently being accepted for exhibitors. Contact us for more details!
The Live Cooking Challenge, sponsored by Macchi Inc, will feature chefs Martin Juneau of Pastaga and Stefano Faita of Impasto. The two will be competing in a cooking competition alongside the winner of our soon-to-be launched auction for one lucky individual to cook with the pros.

Challenge judges include Aimee Wimebush-Bourque of Simple Bites, nutritionist and author of the cookbook, Les Carnivores infidèles, Catherine Lefebvre and Food Guy Montreal's Dustin Gilman.

A VIP event featuring a private cooking demonstration from chef Martin Juneau himself.
A raffle of amazing cooking related products and restaurants gift certificates.
All proceeds to benefit La Tablée des Chefs.
To learn more about sponsorship and exhibitor opportunities, or how to get involved:
If you have your own idea about how to promote Food Revolution Day here in Montreal we're here to help! Share your ideas and we'll help you promote your special event on May 16th!
More about Food Revolution Day
For the past three years, Jamie Oliver has been on a mission to change the way the world thinks about food. It used to be that cooking skills were passed down from generation to generation but today kids and adults alike lack even the most basic cooking skills. We need to get back to basics: to cook and eat fresh local produce; to share cooking skills and food knowledge; to join forces within communities and get as many people involved as possible. Food Revolution Day is our opportunity to get the world to focus on the importance of good food and essential cooking skills, by rallying our efforts to empower people with better cooking skills and to inspire them to cook fresh food from scratch.
Instagram Feeds
Search our site