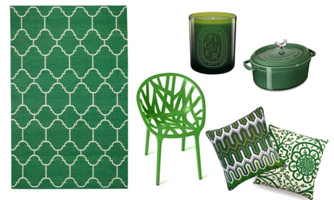 It's official: Emerald Green is the new Tangerine. The colour forecasters at Pantone have declared this lively, radiant, lush shade the "it" colour of 2013.
As the good people of Pantone explain, "Emerald, a vivid verdant green, enhances our sense of well-being further by inspiring insight as well as promoting balance and harmony.
Most often associated with brilliant, precious gemstones, the perception of Emerald is sophisticated and luxurious. Since antiquity, this luminous, magnificent hue has been the color of beauty and new life in many cultures and religions. Also the color of growth, renewal and prosperity, no other color conveys regeneration more than green. For centuries, many countries have chosen green to represent healing and unity."
While green is typically a difficult colour to pull off on the fashion front, this energizing jewel tone looks surprisingly stunning on most skin tones. It is also a lavish yet cheerful colour to inject into your living space. For these reasons, we are excited to say that it is easy being green. Here are a few of the Emerald items we are coveting for home and fashion.
Emerald City: Style
Emerald City: Home 
Instagram Feeds
Search our site