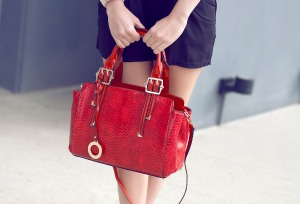 Whether you're going back to school or back to business after a well-deserved summer break, getting your hands on the perfect tote to suit your lifestyle is a must…. After all, if you're anything like us Suite 203 gals, you probably live out of your bag. With unlimited size and colour options available, we've done a style edit, so you don't have to. Here are a few of our favourite bags and purses for fall from local Canadian brands to keep you organized and on point as you fall back into your autumn routine.
Tote-ally perfect
Photo credit: The Stowe
A tote is our go-to style for long days when meetings and mingling are on the agenda. This style allows you to look polished while having room for EVERYTHING you need: whether it's an extra pair of shoes for a quick day-to-night transition or your beloved accessories. Plus, this deep, rich burgundy colour is what fall is all about.
Backpacking beauty
Photo credit: Opelle
Here's a grown up version of the backpack, elegantly adorned with a chic gold zipper. It's stylish yet practical, and frees up your hands for carrying your Grande Skinny Mocha and your iPhone. Style tip: dress up a classic black bag with a silk colourful scarf or a faux fur pompon keychain.
Get the message
Photo credit: Matt & Nat
A sleek and modern vegan messenger bag gets even better in a deep royal blue. This colour is a new neutral that looks great with a suit or your tee + denim uniform. Plus, you can stash your prized possessions in style with the multitude of interior pockets. Fashion score!
Park pack
Photo credit: Parkland
For fun-days (with kids in tow) or a super casual office ensemble, store your stuff in a colourful backpack like this one. We love the clashing colour-combo of merlot, raspberry and orange, but if it's not your style there are 16 other options to choose from. This bag is fully loaded with a fleece-lined laptop sleeve, digital accessories organizer and a mesh bottle holder.
What's your go to tote? Let us know in the comments section below.
Instagram Feeds
Search our site