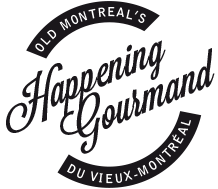 January in Montreal is not our favourite month. Back to work, post-holidays without a long weekend in sight until Easter. With cold weather all too harsh of a reality, we need to find a little comfort in this unfortunate month and thanks to the Happening Gourmand we're finding it in food.
Back for its seventh edition, this Old Montreal restaurant festival is on from January 9th until February 2nd with nine participating restaurants. All are offering three course dinner table d'hôte menus ($21/$25/$29) while a select few (denoted with stars) are serving extremely reasonably priced ($15) lunches.
Kyo Bar Japonais *
Bevo Bar + Pizzeria
Modavie *
Mechant Boeuf
Suite 701 *
Tarverne Gaspar
Verses *
Vieux-Port Steakhouse *
While we're excited about saving over 30% off on fabulous food in picturesque Old Montreal, the real draw for us to Happening Gourmand is choosing from the chef's table d'hôte picks, encouraging us to stray from our favourite and more common menu choices. The Happening Gourmand heats up our palates with new flavours.
Last night, we gathered up a group of girlfriends for a night out at Suite 701. After carefully analyzing all of the menus, this lounge restaurant was chosen to accommodate the vegetarians in the group.
We started our meat-free meal off with a roasted buttercup squash salad complete with cauliflower, quinoa and pearl barley. The main course featured carnaroli risotta with soybeans, wild mushrooms, spinach and parmesan. And to make us feel like summer might just be that much closer, we opted for the key lime pie for dessert.
Carnivores will rejoice in more than a few hearty options at Suite 701 (like the Italian meatball burger), as well as the other participating restaurants. While there are still more than two weeks left to enjoy the festival, we're already planning our next meal out. Our mouths are already watering at the potential of a lobster linguine lunch at the Vieux-Port Steakhouse…
Bon appétit!
Instagram Feeds
Search our site