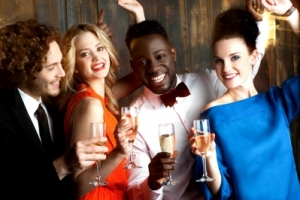 Holiday parties abound, we may be getting caught up in all things tinsel and mistletoe, completely overseeing the pending arrival of the New Year. So we turned to Montreal's own Fashionista514 Robyn Chalmers to get her New Years Eve outfit ideas to welcome 2014 in style.
Q:  What are the essential holiday pieces every women needs to have in her closet this season?
A: A little long sleeve black dress is always at the top of my list!  A great classic pair of black d'orsay pumps make the perfect counterpart, and (faux) leather skinnies will dress up everything you already own in your wardrobe.
Q: Where are the best places to shop for them?
A: Whether you're shopping for high pieces or low, there are a great number of stops you can try to find both a great deal and perfect fit.  My favorite check-ins include Holt Renfrew, Forever 21, Denis Gagnon, and Club Monaco.
Q: What do you carry in your purse during party/holiday season?
A: I never have a rich shade of red lipstick far, and love keeping sweet little treats close by for eggnog latte coffee pairing encounters!
Q: What are your plans for New Years Eve?
A: They say what you do on New Years Eve will directly reflect the rest of that year for you.  Call me superstitious, but ever since I heard that line I've made sure I'm with the people I love, eating a beautiful meal somewhere quiet and intimate, just enjoying home life by their side.
Q: Have you picked an outfit yet? If so, what is it?
A: I have!  A super comfy, longsleeve little black dress (I practice what I preach).
Instagram Feeds
Search our site