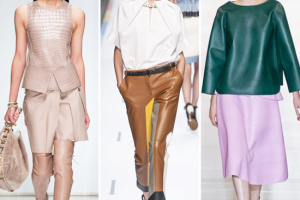 Even though the weather is still hot and humid, we can't help but think of the upcoming style season. Here are a few of our must-have fashions for fall.
1. Leather
While this trend debuted last spring, we couldn't bare to wear it in 30-degree weather. We plan to rock it this fall instead. Whether it's a leather top, leather pants, or a shirt with leather embellishments, this is a versatile look. We prefer pieces that mix lady-like style with some edge (like a pencil skirt) than the full-on rocker look.
2.  Peplum
Peplum dresses still hold our hearts as they look good on any woman. This style will accentuate the skinniest part of your waist and add curves to your hips. Moreover, a combination of a peplum top and a pencil skirt is great for the office. No need to suck in your stomach all day.
3. Velvet
We couldn't believe it when we saw it on the runways either! The trick for those who cannot pull off a velvet dresses is to add small doses to your outfit in the form of a hat or heels.
4. Plaid
Photo courtesy of The Fashion Spot
 This fall, plaid with a modern twist is in. Seen on Tommy Hilfiger and Yves St-Laurent runways, it looks edgy when worn with a pair of booties.
5. Loose Silhouettes
These free-flowing looks are elegant on all body types but can look sloppy if you go too big. Pair loose shapes with more form fitted pieces and body accentuating accessories to keep the look polished.
6. Cinched Outerwear/ Supersize Coats
Supersized coats whether structured, baggy, draped or with boxy shoulders are the highlight of this fall season. The king of cinched outerwear is our very own Jean Charles de Castelbajac, main designer at Festival Mode & Design.
7. Cut-outs
Show a little skin! Spotted on the Alexander Wang and Versace runways, shoulder and back slits is not going anywhere. Look for intense colors like emerald, royal blue and magenta.
8. Embellishments 
From encrusted necklines, metallic accents and sequined details, this trend is a perfect excuse to show off and go over the top. Just ask Balmain.
9. Thigh High Slits
We are all for showing a little leg! Add some sex-appeal to a knee-length women's skirt, as it will take you from desk to date in a flash. Pair with dark hosiery to cover up in a more corporate setting.
10. Knuckle Rings
Double, triple and quadruple these thin bands for a new way to wear rings. Just make sure you don't knock anyone out with these.
Instagram Feeds
Search our site